Welcome to the Society of the Haunted's website. We specialize in exploring the realm of the paranormal with a special emphasis on the topics of ghosts, hauntings, poltergeists and life after death. While we regionaly serv Maryland, the Society of the Haunted's investigations have spanned the country.

The investigators of Society of the Haunted have more than 25 years of combined experience in researching, educating in, and investigating the paranormal. Most members of the group have been featured on Animal Planet's The Haunted, have appeared as guest speakers at paranormal conventions, and have written books about the topic. Our talents include parapsychology, occult specialization, cleansing, and historic ghost research.

This website has been designed with our guests in mind, constantly updating information, blogs, and videos about our investigations as well as providing a point of contact for Society of the Haunted. This is a new site, so please keep checking back for the latest we have to offer.
Roxy Theater Investigation
Society of the Haunted descended upon the Roxy Theater in Muskogee, Oklahoma, a location that has never been investigated but has been suspected of paranormal activity. This case was followed by the local press, and a log of events can be viewed at http://www.muskogeenow.com.
Keep checking back for updates...
Full MuskogeeNow.com transcript below:
New Photo Galleries Uploaded
We've recently uploaded a couple new photo galleries from our historic investigations over the past few months. We'll be sharing plenty more in the near future. Check out our Photo Galleries section for more!
Ramona Theater:
Old Army Air Field (Frederick, OK):
Hennessey Public Investigation
Thanks to everyone who came out to our public investigation through Wimgo Deals on November 4. Here is the photo gallery from that night... more to come!
Lawton Newspaper Feature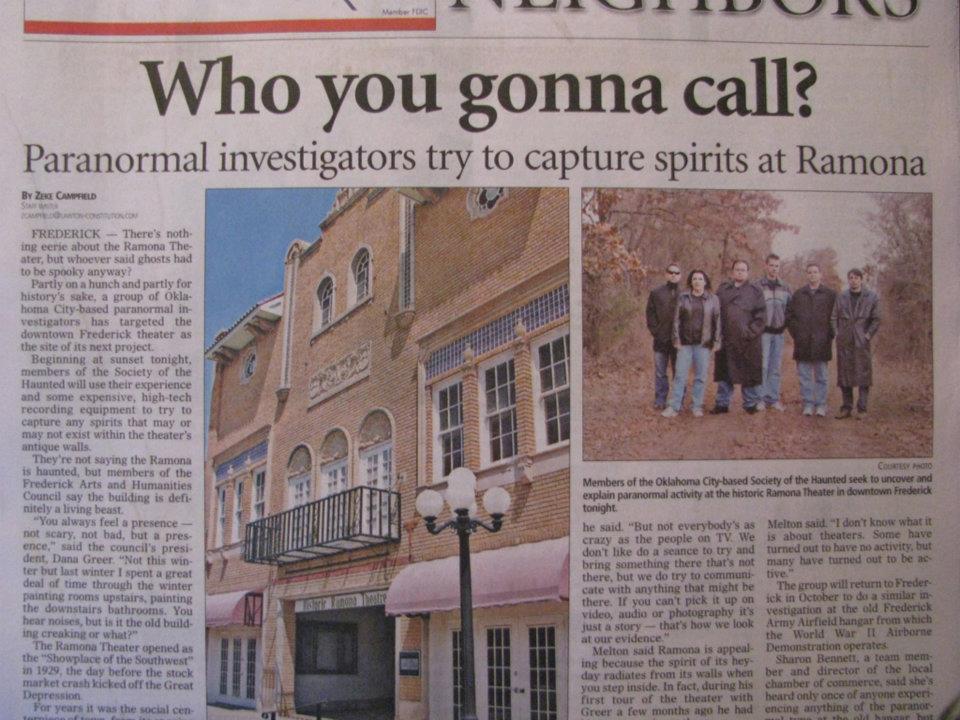 Society of the Haunted was recently featured in the Lawton Constitution for its investigation of the Ramona Theater in Frederick, Oklahoma. This is the first time the historic theater has ever been investigated by a paranormal team and we spent a very long night investigating every inch of the building. Findings will be unveiled in the coming weeks.
"Who you gonna call?" by Zeke Campfield Lawton Constitution article:
http://www.swoknews.com/main.asp?Search=1&ArticleID=37621&SectionID=11&SubSectionID=99&S=1